Fog screen use suggests and select.
3D Fog screen machine a new type of display media.
Traditional display media cannot penetrate the screen.
Fog screens have broad market prospects.
Design and structure.

The internal use of integrated ultrasonic movement, no mechanical drive, quiet and no noise, high atomization efficiency, produce a specific concentration of negative ions, low failure rate, simple maintenance.
The box body adopts all-stainless steel spray treatment, with beautiful appearance and practicality, and it with standard replenishment mouth, discharge switch and overflow outlet, and automatically controls the water level.
Fog raw materials: ordinary tap water, environmental protection, and energy conservation.
Each machine unit can use alone, Therefore also can combine to form a variety of shapes.
For instance, like a plane, arc surface.
Machine generator device can be computer, program, infrared, laser, radar through the projector speed of light through the wind field projected on the fog screen, forming a variety of dynamic, virtual array of images.
Operation
Computers, DVDs, etc. are projected onto the fog screen through the wind field through the projector or laser to form various images.
Mist fog screen non-toxic, odorless, environmental protection and produce negative ions, there is a purification effect on the air, visitors can enjoy full interaction with fog screen.
The fog of the machine will not accumulate in the room, and the power supply will be turned off and completely vaporized.
The requirements for site installation are small and can installed in halls, passages, entrances, elevators, etc.
The equipment has two installation methods: hanging type and floor-standing type, Also, which not only facilitates the installation of equipment but also improves the efficiency of space use.

The overall design of the machine has undergone repeated tests and actual testing for many years.
The structure is compact, with a reasonable, no high-power motor, no noise when working.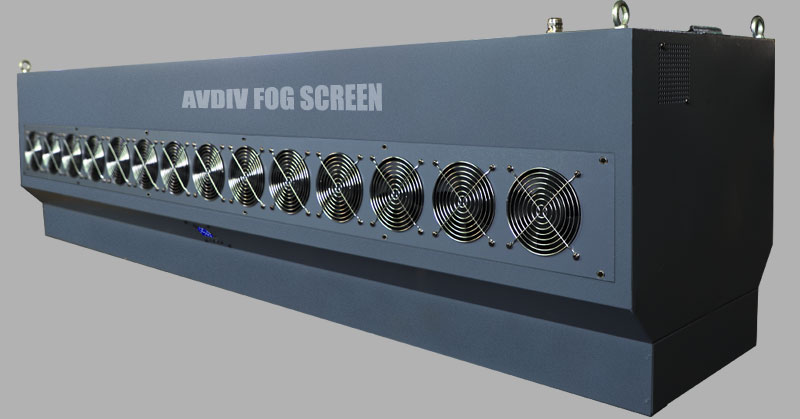 TECHNICAL DATA:
Voltage: AC 110-240V.
Spray type: Downward spray.
Fan: Taiwan ADDA waterproof fan.
Projector Requirements: 5000LM or more.
Projected area: 16:9.
Noise: 68-75dB.
Control model: Keyswitch, remote. RS232/485.
| | | | | |
| --- | --- | --- | --- | --- |
| Standard Model | Machine Size | Water consumption | 10 Nozzles Atomizers | Gross Weight |
| FC-100 | 100*55*58 cm | 8-10 Liters/hour | 3 pcs | 80 kgs |
| FC-200 | 200*55*58 cm | 10-12 Liters/hour | 7 pcs | 120 kgs |
| FC-250 | 250*55*58 cm | 10-12 Liters/hour | 8 pcs | 140 kgs |
| FC-300 | 300*55*58 cm | 12-150 Liters/hour | 10 pcs | 180 kgs |
MAIN PARTS:
10 nozzles ultrasonic atomizers, heavy fog, anti-dry.
Waterproof fan imported from Taiwan (other famous brands optional).
Meanwell driver imported from Taiwan. (other famous brands optional).
Digital Remote controller.

INTERNAL STRUCTURE:
More compact structure, Has a three-layer filter to effectively avoid dripping.
FOG SCREEN MACHINES COMBINATION:
If the standard model does not meet your requirements. We can produce non-standard fog screen or use 2 or 3 standard fog screen combination. (it will need a software update)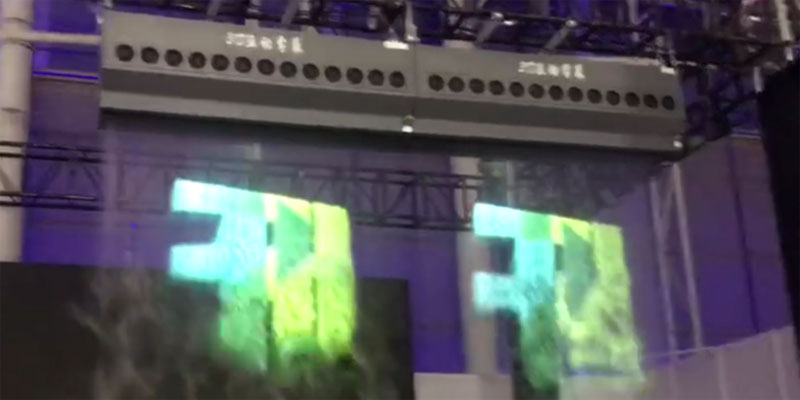 SHIPMENT PACKING ADVICE:
For fog certain machine transportation safety. recommend using a flight case packing.